IBT Atlanta serves as our inland intermodal hub in the South East region and is an iatrical part of our triangle service with Charleston and Savannah. IBT Atlanta opened its doors in 2009, and has been a strategic hub to serve our customer base in Georgia, Tennessee, South Carolina and Alabama. Ideally located within minutes of the CSX and Norfolk Southern ramps, offer customers the flexibility to work with their ocean transportation provider of their choice. We offer storage at our 10 acre facility which is operated 24/7 and full secured.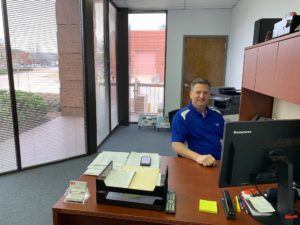 Daryl Wulf
Operations & Terminal Manager
(404) 624 3025
Mr. Wulf has been working in various facets of transportation since 1986, and joined IBT in August of 2017. He started in the business with U.S. Lines Trucking learning to dispatch and worked his way to upper level management. He also owned and managed his own firm within the industry for approximately 10 years. His experience is inclusive of Intermodal, Air-freight, Domestic Brokerage and Warehousing. At age 50 he completed his first Marathon and is currently training for his second. He has also completed all 3 Spartan Races and various other Half Marathons. Married for 25 years, he has a daughter that is a second grade teacher and son in college majoring in music production.